Publications
Poetry
"Love Poem." Right Hand Pointing, Issue 139: the sky is a black canvas. July 2020.
"So Good." Plentitude Magazine. Open Submissions. 2020.
"A Perspective On Women" and "Beneficiaries of a Genocide." Arc Poetry Magazine Issue 92. Response to Missing and Murdered Indigenous Women. Summer 2020.
"Winnipeg Trip" and "Porch Poems." League of Canadian Poets/SAWCI. I am what becomes of broken branch chapbook. May 2020.
"what it is like to be this extreme and appear normal." Arc-Hive Studio. Ekphrasis: Poets Respond to Arc-Hive Studio Artists chapbook. April 2020.
"Smoke." League of Canadian Poets, Tending The Fire Chapbook. April 2020.
"Wake." Festival of Literary Diversity. April 2020.
"Jet Lag." Vallum 17.1, "Home" issue. Spring 2020. Featured in Vallum's Poem of the Week. August 2020.
"Those I Call Friends." Grain Magazine 47.2, Of Auburn And Blue. Winter 2020.
"Blue Shard." Open Minds Quarterly, Vol 21 Issue 3: Something Doesn't Have to Be Complete to Be Valid. Fall 2019.
"The Weight of Snow." Sweet Water: Poems for the Watersheds (Yvonne Blomer, ed). Caitlin Press, March 2020​
"Lasts." Grain Magazine 46.5. Indigenous Writers & Storytellers issue. Summer 2019.
"The Cast," "Walk On The Left Hand Side," and "I Want To Sleep In You." CV2 Magazine 42.1 Summer issue. 2019.
"Wake." PRISM international 57.1 "Dreams" issue, Fall 2018. (Pushcart nomination).
"Dialogue as Seditious Act." Dis(s)ent, (George Elliot Clarke, Sanita Fejzić, eds.), In/Words Magazine & Press, 2018.
Prose
"The Amnio Journal." The Malahat Review. Issue #212. Fall 2020.
"The Impulse." Applebeard Editions, Release Any Words Stuck Inside You II. Fall 2019.
"The House on Strathnaver Avenue." The Fieldstone Review, 2017.
"Under the Covers." The Sun, Readers Write column, November 1996.
Awards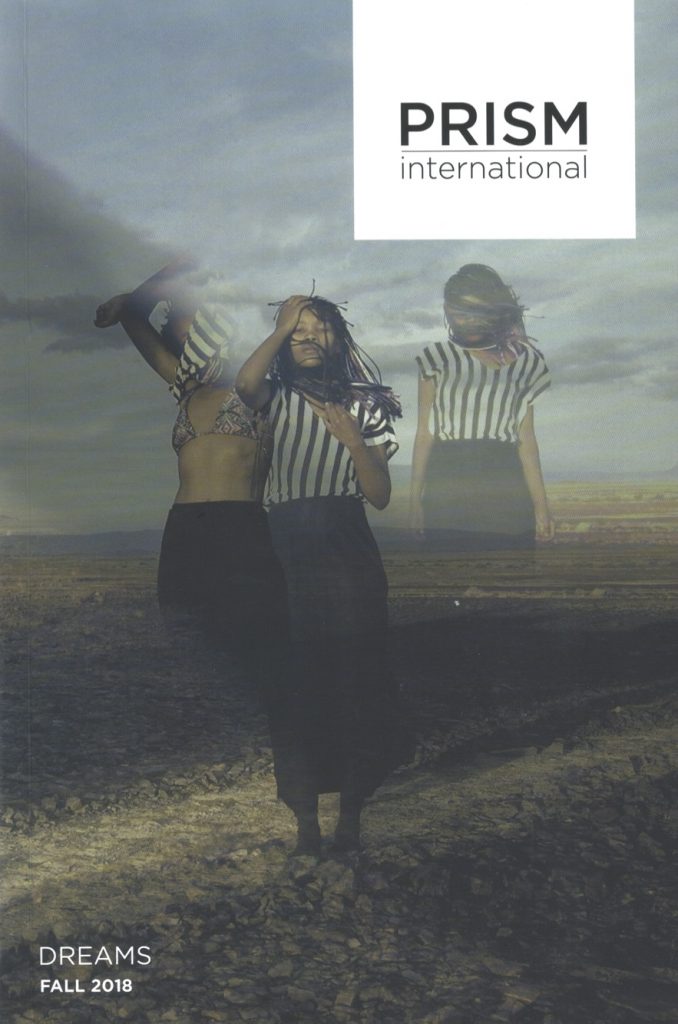 "Duck Ugly." Short List. FBCW Literary Writes Contest. March 2020.
"Understanding My Face." Shortlist. Event Magazine, Nonfiction Contest. February 2020.
"Porch Poems." Long List. Room Magazine. Poetry Contest, 2019.
"Wake." Earle Birney Prize for Poetry, PRISM international, 2019
First Peoples' Cultural Council Individual Artists, grant recipient. 2019
"As If Penelope." Long List. Federation of BC Writers. Literary Writes, poetry, 2018
"New Medium." Long List. PRISM international, Grouse Grind Lit Prize for V(ery) Short Forms, 2017
Centre for Studies in Religion and Society, Community Fellowship. University of Victoria, 2017
"The Impulse." Honourable Mention. Canadian Authors Association Victoria, Flash Fiction, 2016
"The House on Strathnaver Avenue." Long List. PRISM international, Creative NonFiction, 2015
"The Girls I Grew Up With." Honourable Mention. This Magazine, National Poetry Competition, 1998